Administrator
Staff member
Joined

Apr 7, 2018
Messages

1,327
Points

38
I remember on an old interview of the developers. They want Lightning to be a female Cloud Strife, That is why in one of the early concepts she was a blonde.
This is another Early concept of her where is was bleached blonde.
They also considered making her a Ginger, I actually like the redhead look because it fits with her tough and angry personality.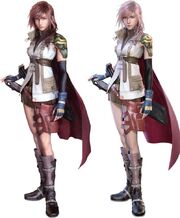 In the end though they decided to give her a Rosegold hair which is a shade of pink. I guess they decided to give her rosegold hair to make her look feminine since her personality is way too tomboy.