Joined

Nov 27, 2017
Messages

131
Points

18
Terra is one of the best Final Fantasy heroes of all time but I kind of prefer Celes over Terra.
First she did the most Iconic scene of FF6, the stage play!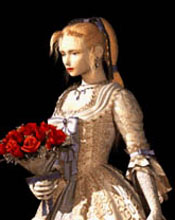 She is also half of the most well received Final Fantasy couple of all time. Her love story with Locke is the best written love story in the history of Final Fantasy.They saved each other's life so they are more like equals.
I think Terra is more catered to Feminist since she don't have a love interest, She is a woman who can held on her own and lead a group. I do love Terra since she have a character growth from an insecure girl who doubt her powers to a confident warrior who defeated evil.
I just feel more attached with Celes because her story tackles depression and suicide, something I had been through. Also Gameplaywise Celes is very strong! She is very fun to play.
Last edited by a moderator: